From buzzy traditional-style trattorias with a slight punk rock twist to push-the-boat-out special occasion dining with a sea view, here are 10 Italian restaurants that do great things with pasta, pizza, tiramisu – and everything in between.
Give them a swirl.
10 William Street
Chef Francesco Ruggiero has stuck to 10 Bill's seasonally driven, wine-friendly brief. At this chic hole-in-the-wall, there's focaccia, there's salumi, but the sleeper hit is a light and delicate farinata pancake, draped with anchovies and piled high with mascarpone and herbs. Ask the charming service team for assistance navigating the extensive selection of minimal intervention wines (a specialty, with plenty of big names like Jean-Francois Ganevat, Sami-Odi and Paolo Bea). You can now book a table in advance, too.
Don't-miss dish: Pretzel and whipped bottarga, $18
10 William Street, Paddington, 10williamst.com.au
Alberto's Lounge
Here are all the ingredients for a good time. Warm wood tables and a quaint vibe, with alleyside views featuring a striking monochromatic mural by artist Allie Webb. Alberto's menu is robust, genuine and easy to love. The house-made pasta is excellent (dramatic linguine al nero comes tossed with a jumble of king prawns, tomato and saffron butter) and will have you reaching for the wine list. What's not to love?
Don't-miss dish: Linguine al nero, $35
17-19 Alberta Street, Surry Hills, swillhouse.com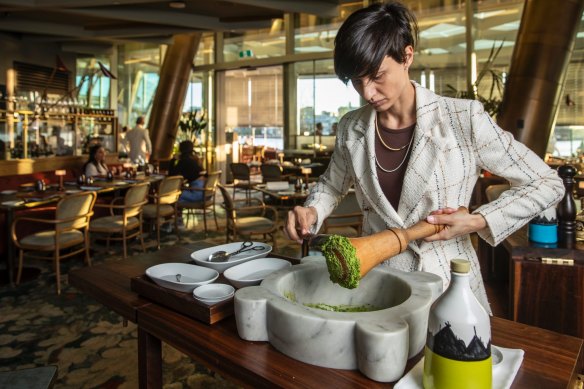 a'Mare
There are plenty of reasons a'Mare, seating around 200 on a sunny weekend, deserves to draw crowds. The first being it's perhaps the purest expression of high-end classic Italian in the country. Alessandro Pavoni, who oversees more modernist cooking at Ormeggio, is clearly revelling in the concept. He stalks the carpeted floor as uniformed waiters pound together pesto table-side. The wine service is also informed and charming to go with a killer list. Big? Expensive?Sure. Special? And then some.
Don't-miss dish: Trofie al pesto, $42
Level 1 (ground), 1 Barangaroo Avenue, crownsydney.com.au/amare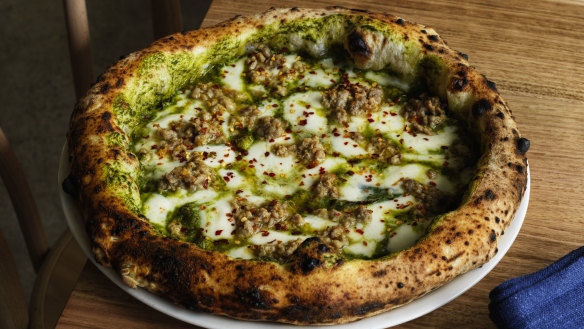 Da Orazio Pizza and Porchetta
Bondi's favourite pizza is back. After a few years helming other trattorias, chef Orazio D'Elia has reopened his namesake restaurant in its original spot. The buzzy space has been stripped back to its bright, white roots, with walls rendered to look like they belong in a Mediterranean fishing village. Nightclubby music gets loud, but at least you can still hear your table mates when you need to decide which regional specialities to order. Pizza, of course, is a must and highlights include the Napoletana, handsomely draped in anchovies with basil and wood-fire-shrivelled olives.
Don't-miss dish: Porchetta alla Romana, $35-67
75-79 Hall Street, Bondi, daorazio.com.au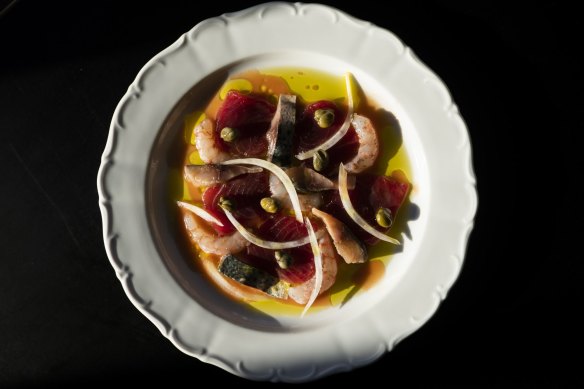 Fontana
It's a sparsely decorated joint, punctuated by the odd succulent and an abstract oil-and-pastel by artist Chanel Tobler, but what Fontana lacks in fit-out, it makes up for in excitement on the plate (and brilliant left-field Australian and Italian wines). A magical slab of ricotta is made fresh each morning and served simply dressed with olive oil, and slappy tubes of paccheri pasta partner with a kangaroo-tail ragu braised in red wine and stock, inspired by soul-warming oxtail stew coda alla vaccinara. The best bit? Unlike pop-up Don Peppino's, Fontana is here for keeps.
Don't-miss dish: Ricotta della casa, $15
133A Redfern Street, Redfern, clubfontana.com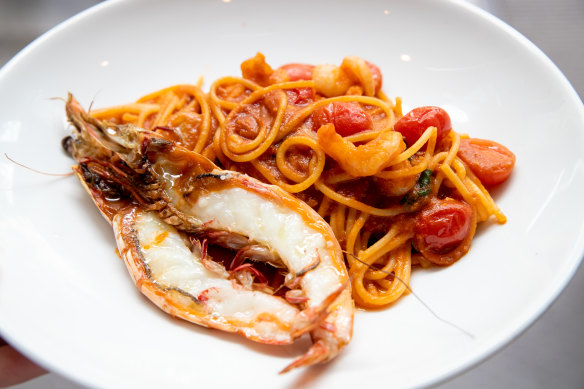 Fratelli Paradiso
Regulars already know what they want from the scrawled blackboard of this Potts Point celebrity haunt – golden cubes of focaccia and oozy mozzarella with fat Olasagasti anchovies, or the simple-but-good fried calamari Sant' Andrea with agrodolce dipping sauce. Nigella Lawson adores the crumbed pork Milanese, by the way – but how could she ignore the spaghetti in a rich, tomatoey, scampi bisque sauce, or the damn-near-perfect square of tiramisu?
Don't-miss dish: Tiramisu, $18
Shop 3, 2-12 Angel Place, Sydney, ragazziwineandpasta.com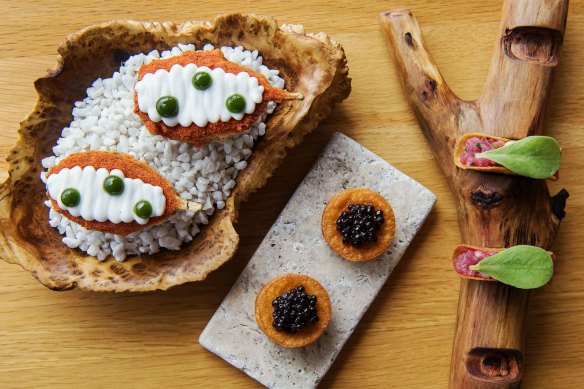 Ormeggio at The Spit
Last things first: the delizia al limone, Ormeggio's signature dessert, is one of Sydney's best – sweet, tart and delicious in equal measure. The lead-up to this finale is no less impressive, starting with the salty – rosemary focaccia – and moving through the finely tuned likes of smoked scampi and squid-ink tagliolini. This is big day or night out territory, with wallet-sapping prices to match, but if you've scored a waterside table on a warm afternoon, there are sunny Capri comparisons to be made.
Don't-miss dish: Homemade ink and spelt spaghetti "allo scoglio" with half charcoal Eastern Rock lobster, $149
D'Albora Marina, Spit Road, Mosman, ormeggio.com.au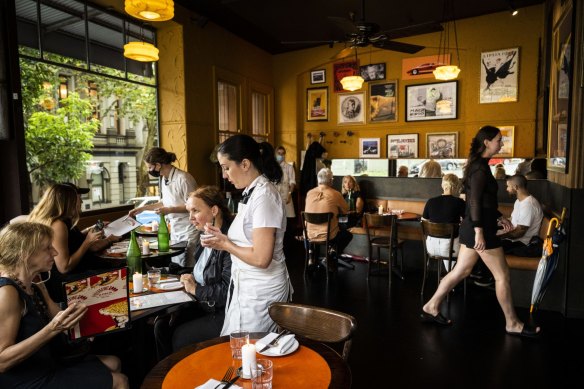 Pellegrino 2000
Officially, Pellegrino is an Italian restaurant, but the kitchen uses plenty of ingredients that would shock a Tuscan. If you find yourself eating trippa fritta and wondering what the tang is kicking through crumbed tripe and parmesan, that would be a citrusy Sichuan-ish pepper from Japan. This is smart, punk-rock cooking from chefs Dan Pepperell and Michael Clift, with wine gun Andy Tyson on the floor. Post-modern Italian prints and shelves of tomatoes channel a more traditional trattoria, and a streetside bar is made for negronis.
Don't-miss dish: Fritto misto, $32
80 Campbell Street, Surry Hills, pellegrino2000.com
Pendolino
It's almost refreshing to see handmade spinach and cheese ravioli with sage and brown butter headlining a menu. Then again, foolproof flavour combinations and time-honoured technique have always defined Pendolino. How else to explain the enduring allure of signatures such as velvet-soft beef carpaccio or a honey-sweet semifreddo covered in candied almonds? Service is warm, the charm factor high, and the experience sprinkled with luxurious touches. This is big-city Italian with all the bells and whistles, and few do it much better.
Don't-miss dish: Classic Pendolino ravioli di magro
Shop 100, Level 2, The Strand Arcade, 412-414 George Street, Sydney, pendolino.com.au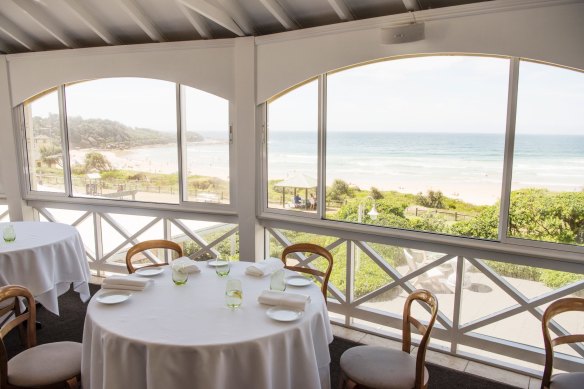 Pilu at Freshwater
It may seem hard to believe, but the view from this heritage weatherboard house over Freshwater Beach is no illusion. Neither is the timelessness of owner-chef Giovanni Pilu's cooking, which continues to radiate with freshness and finesse after almost 20 years. When produce this fine is put forth with such care, served by a team both relaxed and assured, and paired with a drinks list deserving of every accolade, little can go wrong.
Don't-miss dish: Slow-roasted suckling pig with baby vegetable pinzimonio and jus, $65
Beach end of Moore Road, Freshwater, pilu.com.au
Restaurant reviews, news and the hottest openings served to your inbox.
News Source: https://www.smh.com.au/goodfood/sydney-eating-out/10-of-the-best-italian-restaurants-in-sydney-20230308-p5cql0.html