A couple of weekends ago, I joined a group of chefs and taco lovers on a food crawl through Houston's Spring Branch neighborhood. One of the stops served a delicious tlayuda, a specialty from the southern Mexican state of Oaxaca. The dish is an extra large tortilla made crispy on the grill, then topped with frijoles negros, lettuce or cabbage, avocado, quesillo, and your choice of meat or veggies on top.
That meal piqued my curiosity to search for more comida Oaxaqueña here in H-Town. That's when I found El Alebrije parked at Astral Brewing, which claims to be the only Oaxacan street food truck in Houston, serving traditional food such as molotes, picaditas, tetelas, tlayudas y más.
When I visited El Alebrije for dinner last week, chef-owner Guillermo "Memo" Quintero was supremely kind and welcoming, and was a bit surprised yet non-judgmental when I ordered a tlayuda and four tacos for myself. As the sunset covered the Houston sky in hues of orange, pink and blue, he delivered the food to my picnic table, salsas and napkins in hand.
The tlayuda was perfectly toasted, with two big pieces of beef cecina laying on top of the cabbage, cheese and black beans. It was the size of a medium pizza, and each bite was tastier than the last. As for the four tacos—todos sin cebolla, por favor—the two pastor and one barbacoa I ordered were really good, but my favorite was definitely the pollo con mole. It was rich in flavor and spice, with hints of sweetness. When I asked chef Memo if they made the mole, he affirmed with a proud "Si, aquí hacemos el mole!"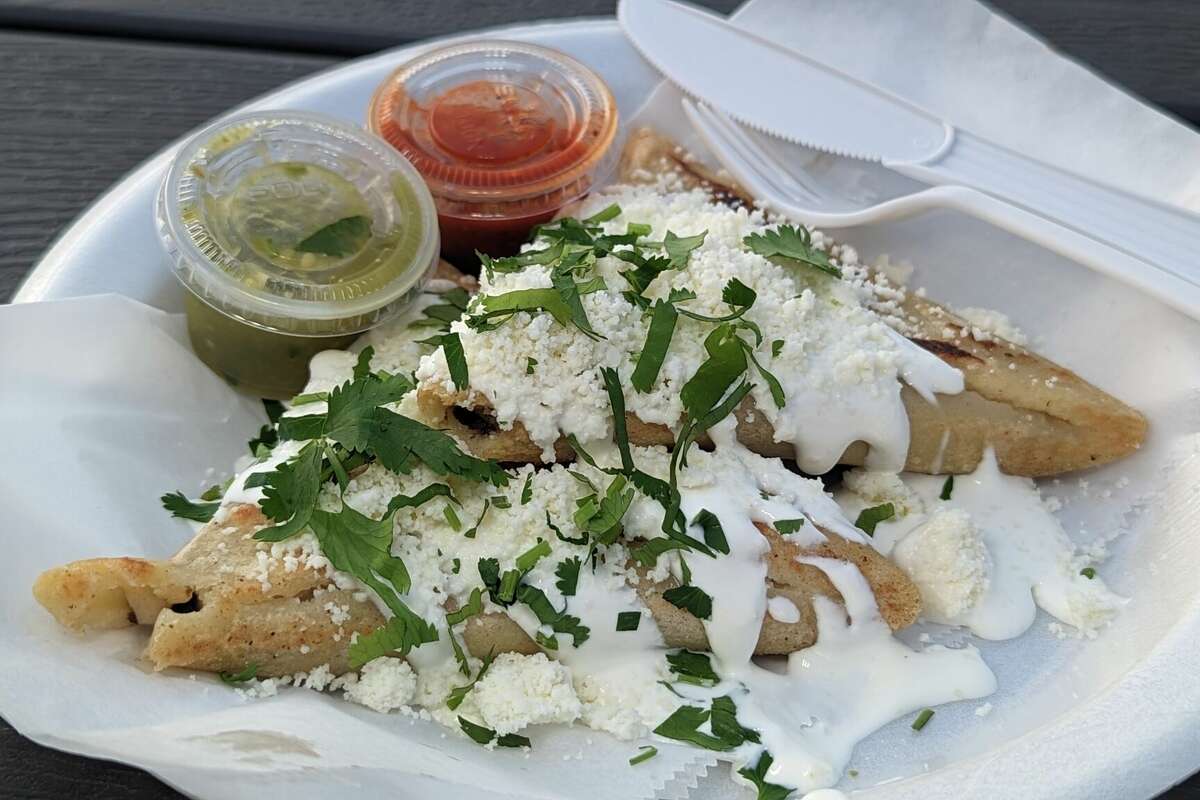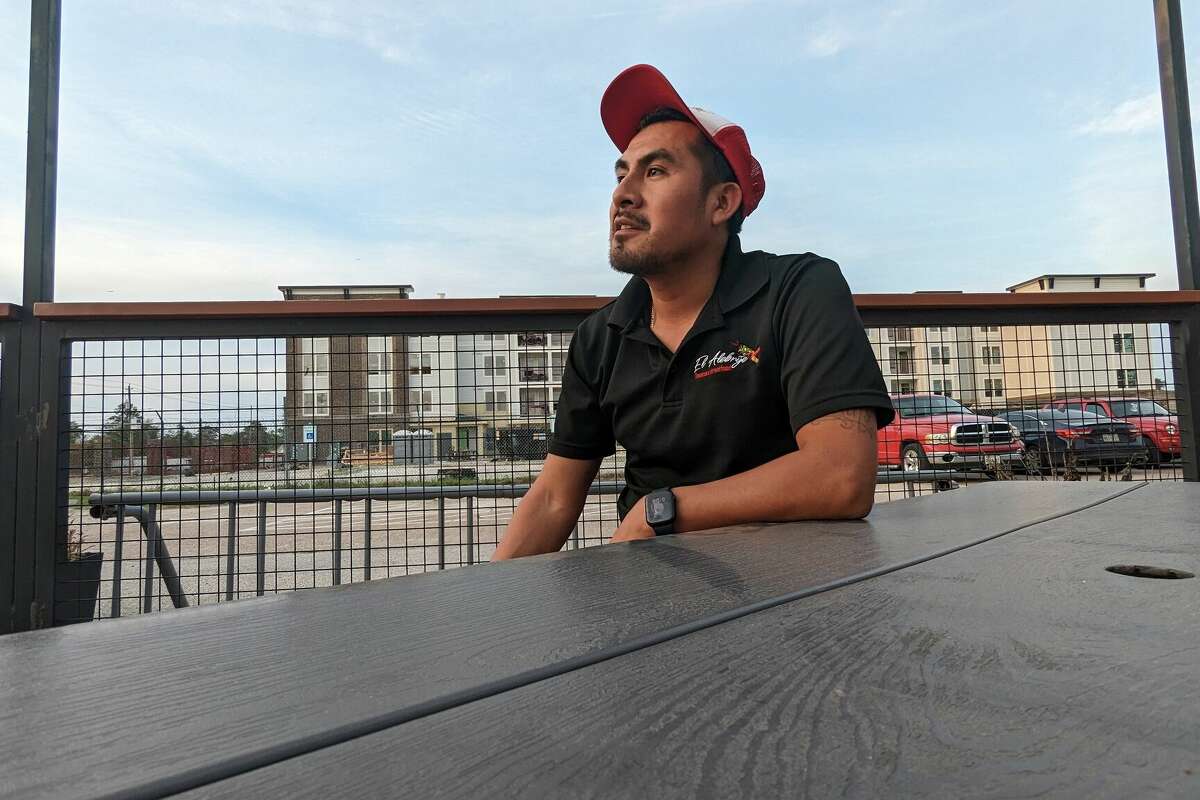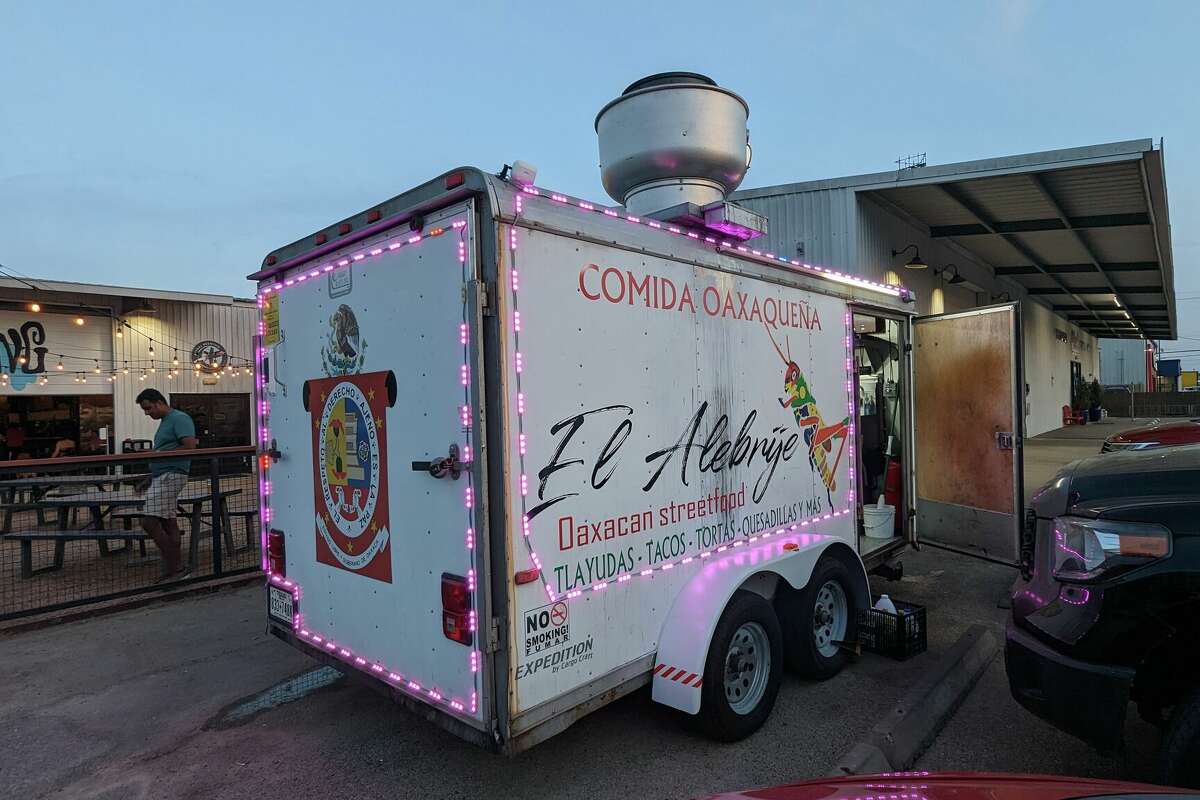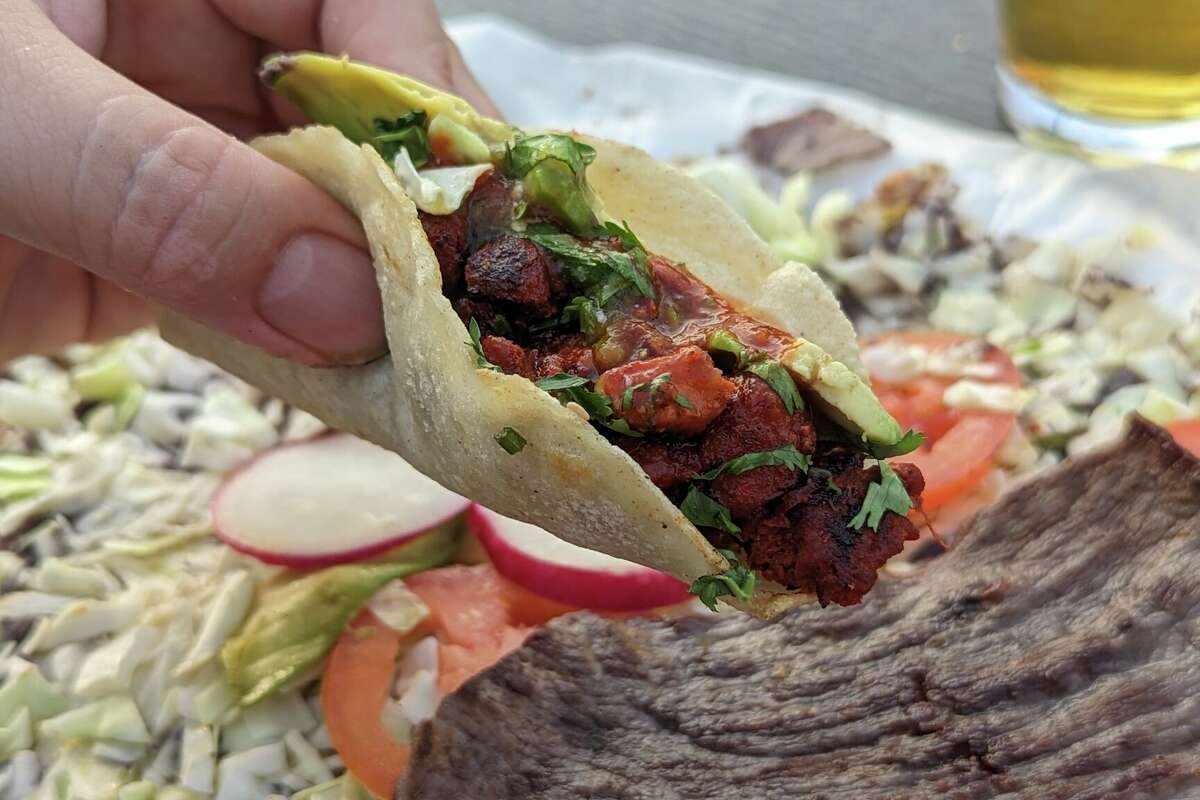 Guillermo "Memo" Quintero finally found El Alebrije a home outside Astral Brewing. (Photos by Marco Torres)
Quintero is from a small town called Venta de Uribe de Juárez, which is in the far northwest corner of Oaxaca. The nearest city is La Heroica Ciudad de Huajuapan de León, which itself is almost 3 hours from Oaxaca City. He visited his family that lived in Houston for the first time in 2007, then moved here permanently in 2011. Quintero worked in several restaurants and kitchens, making his way up from a dishwasher to a cook. He lost his last food industry job during the pandemic, which is when the idea for El Alebrije was born.
Quintero dreamed of having his own food truck that specialized in serving dishes from his native Oaxaca, and after his sister provided him with a loan, he was finally able to make that dream a reality. He first opened in April 2021 near the Fiesta Mart on Airline Drive and 45 North, then relocated to Almeda Road and 59 South, but neither were an ideal fit for El Alebrije, he said.
One of his regulars suggested he search for a local brewery that was in need of a food truck. After bouncing around the city, Quintero found a home at Astral Brewing in March 2022. He was certain he could win over his new customers with food that was different from offerings at other food trucks.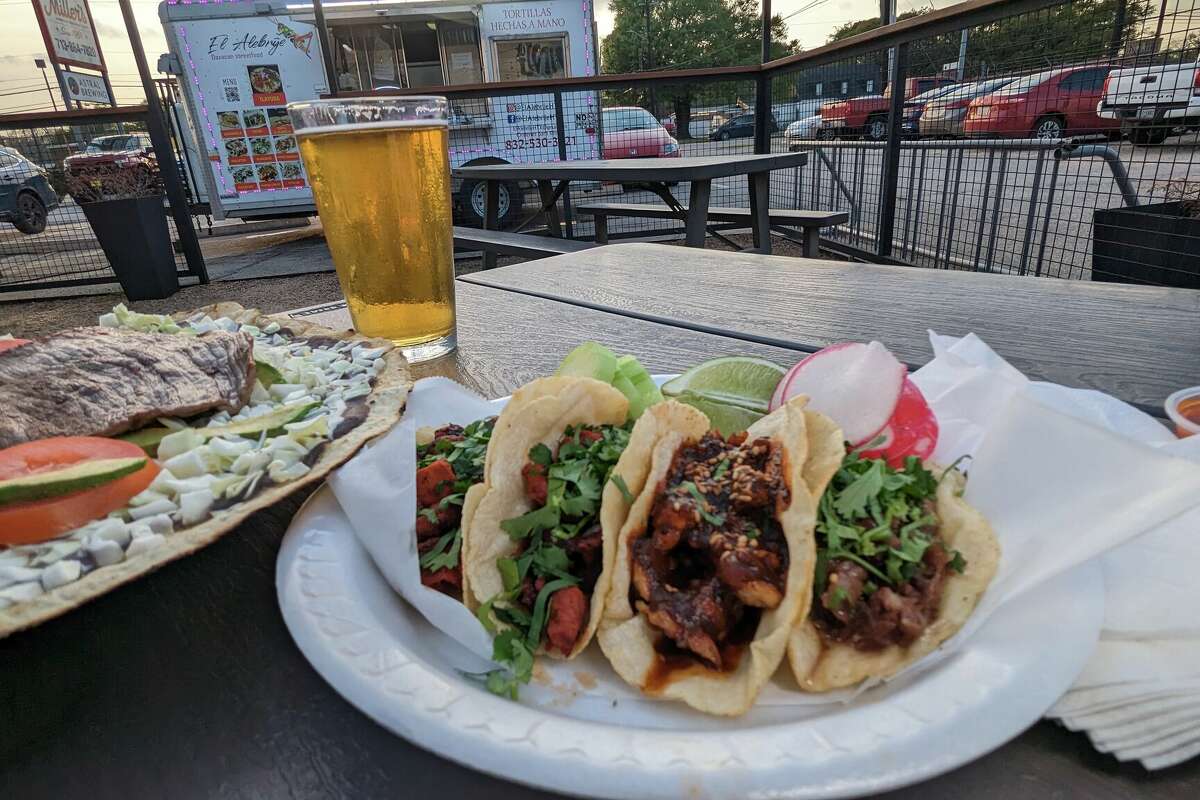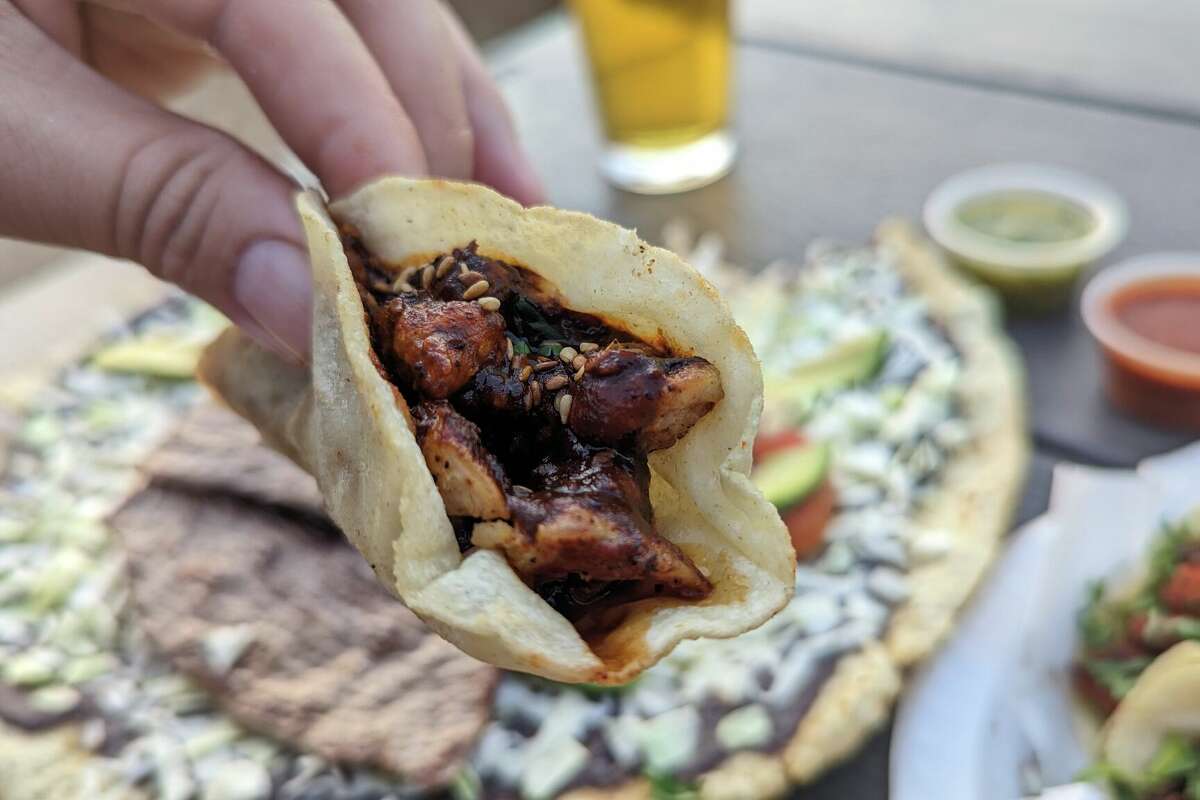 The pollo tacos con housemade mole are a highlight of El Alebrije's menu. (Photos by Marco Torres)
Besides the mole, El Alebrije also makes each tortilla by hand, which really adds to their delicious, distinct flavor. I also noticed that the frijoles tasted extra good, with an almost nutty, earthy, somewhat minty taste. Quintero says they make the frijoles refritos with a couple of hojas de aguacate (avocado leaves). He imports the tlayudas, the quesillo and the chapulines directly from Oaxaca. Yes, you can order your tlayuda or your tacos with dried and toasted grasshoppers, if you dare.
Before I left, chef Memo asked me to taste the tetelas, which are triangular masa pockets filled with frijoles negros and topped with queso fresco and crema. I loved the combination of flavors, and am excited to come back soon to try the rest of the menu.
El Alebrije Oaxacan Streetfood
Find it: 4816 North Shepherd Drive (at Astral Brewing), Houston, TX 77018; (832) 530-3421
Hours: Tuesday-Friday 4 p.m.-9 p.m.; Saturday 1 p.m.-9 p.m.; Sunday 1 p.m.-7 p.m.
News Source: https://www.chron.com/food/article/el-alebrije-houston-17841584.php