Does the new study saying so mean that increasing coffee consumption can prevent diabetes? 'Absolutely not. First, the study is talking about caffeine metabolism and not the amount consumed. Second, going overboard with caffeinated drinks can lead to a host of other problems,' says endocrinologist Dr Ambrish Mithal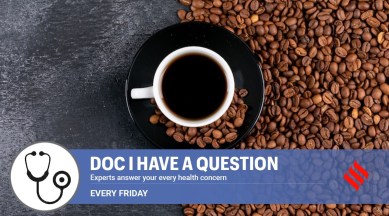 The researchers found that those with low caffeine metabolism had higher levels of the compound in the blood – as it took longer for them to process it – and had consequently lower body mass index (BMI). (Source: Freepik)
Listen to this article
Your browser does not support the audio element.

High levels of caffeine in the blood can keep a check on body fat, thereby reducing the drinker's risk of developing Type 2 diabetes, found a study by European researchers using genetic data of 10,000 people. The study is significant because instead of focusing on the consumption of caffeinated drinks, it focusses on how the compound is broken down by the body. The researchers found that those with low caffeine metabolism had higher levels of the compound in the blood – as it took longer for them to process it – and had consequently lower body mass index (BMI). Dr Ambrish Mithal, Chairman of Endocrinology and Diabetes at Max Healthcare, feels the study opens up a new avenue for research but warns that it is not evidence for one to increase their coffee or tea consumption.
You have exhausted your
monthly limit of free stories.
To continue reading,
simply register or sign in
Continue reading with an Indian Express Premium membership starting Rs 133 per month.
This premium article is free for now.
Register to continue reading this story.
This content is exclusive for our subscribers.
Subscribe to get unlimited access to The Indian Express exclusive and premium stories.
This content is exclusive for our subscribers.
Subscribe now to get unlimited access to The Indian Express exclusive and premium stories.
What is the link between caffeine and diabetes?

Caffeine consumption has always been linked to weight loss. That is the reason you see all sorts of weight loss pills and fads containing caffeine. What this study has done, however, is take the link a step further to say higher blood caffeine content reduces the risk of Type 2 diabetes.
The researchers have used genetic markers of caffeine metabolism and have used a method called Mandelion randomisation. This is one step ahead of observational studies that tracked coffee consumption and diabetes risk to establish a link between the two but is one step behind a randomised control trial that can prove that one causes the other.
The finding that caffeine metabolism is linked to lower body mass index is not surprising. And, since obesity is one of the major risk factors for Type 2 diabetes, having a lower BMI would of course reduce the risk for it. But what researchers have found is that only 50 per cent of this risk reduction is because of the lower BMI. What causes the other 50 per cent reduction in risk we don't know. And, that is where more studies are needed.
Does caffeine really lead to weight loss?
Caffeine increases the energy expenditure of the body and thereby promotes weight loss. What we know so far is that consuming 100 mg of caffeine a day can increase the energy expenditure of a person by 100 calories a day. This is actually quite high – a person uses up only about 200 calories even when they do a rigorous workout.
Does this mean that increasing coffee consumption can prevent diabetes?
Absolutely not. First, the study is talking about caffeine metabolism and not the amount consumed. Second, going overboard with caffeinated drinks can lead to a host of other problems. It can increase a person's heart rate, lead to anxiety and restlessness, cause tremors of the hand, insomnia and headaches. Besides, drinking it with sugar can do more harm than good.
How much coffee or tea is too much?
So, a big cup of black coffee contains about 100 mg of caffeine. And tea contains about one-third to half that quantity, depending on the kind of tea being consumed. An average Indian adult can have about 300 mg of caffeine a day. So, that would mean around three cups of coffee. But this does not mean people should increase their intake if they drink less. Also, if people already suffer from anxiety or are prone to increased heart rate, they should restrict their consumption to about 200 mg of caffeine a day. Instead of focusing on drinking more coffee and tea, working on lifestyle changes would be better to control weight and keep diabetes at bay.
What are the changes that people should focus on?
As I said earlier, obesity is one of the major risk factors for Type 2 diabetes. So if people keep their weight in check, they reduce their risk of the disease significantly. Maintaining body weight is a combination of diet and exercise. Along with regular exercise, you must cut down on refined carbohydrates, increase fibre and protein intake and keep the total calories under control.
Why Dr Mithal?
Dr Mithal is Chairman of Endocrinology and Diabetes at Max Healthcare. He has won numerous awards, including the highest award for physicians, Dr BC Roy award. He has also received the third highest civilian award, Padma Bhushan, for his contribution to the field of endocrinology. He was appointed as one of the domain experts in the government's National Health Authority, the body implementing Ayushman Bharat insurance scheme.
© IE Online Media Services Pvt Ltd
News Source: https://indianexpress.com/article/health-wellness/can-caffeine-in-your-blood-reduce-weight-and-the-risk-of-type-2-diabetes-8503532/lite/