Prosciutto and burrata were already a match made in heaven, but the addition of sweet spring peas takes this pairing to the next level. After a quick cook with aromatics in olive oil, sliced sugar snap peas are tossed with toasted tortellini, herbs, and plenty of lemon zest, then topped with salty, tender prosciutto and a ball of creamy burrata. Despite all of the rich and decadent ingredients in this pasta, the sweet green peas take center stage and make this the ideal springtime pasta. 
Pan-frying the tortellini in butter gives it a beautiful golden brown color and deliciously crispy exterior, offering some contrast to the soft interior. To help achieve the perfect pan-fried tortellini, be sure to undercook them slightly when boiling so that the pasta doesn't tear when it's being tossed in a hot pan. 
Store any leftovers in an airtight container in the refrigerator for up to 3 days.
Did you try making this? Let us know how it went in the comments!
Advertisement – Continue Reading Below
Yields:

4

serving(s)

Prep Time:

15

mins

Total Time:

40

mins
Ingredients
Kosher salt

12 oz.

fresh or frozen cheese tortellini

2 tbsp.

extra-virgin olive oil, divided

1

shallot, chopped

2

cloves garlic, sliced

3/4 c.

fresh or frozen petite peas (from about 3 1/2 oz.)

3/4 c.

sliced sugar snap peas (from about 3 oz.)

3 tbsp.

unsalted butter

1/4 c.

chopped fresh basil

2 tbsp.

chopped fresh mint

2 tbsp.

chopped fresh tarragon

1 tsp.

finely grated lemon zest, plus 2 tbsp. fresh lemon juice

2 oz.

prosciutto, torn into bite-sized pieces

4 oz.

burrata

Crushed red pepper flakes
Directions
Step 

1

Bring a large pot of salted water to a boil. Add tortellini and 1 tablespoon oil and cook, stirring occasionally, until very al dente, about 1 minute less than package instructions. Drain. 

Step 

2

Meanwhile, in a large skillet over medium heat, heat remaining 1 tablespoon oil. Add shallot, season with a pinch of salt, and cook, stirring occasionally, until shallot starts to soften, 2 to 3 minutes. Add garlic and cook, stirring, until fragrant, about 1 minute more. Add petite peas and sugar snap peas and cook, stirring occasionally, until peas are just heated through, 2 to 3 minutes more. Transfer pea mixture to a medium bowl. 

Step 

3

In same skillet over medium heat, melt butter. Add tortellini and toss to coat in butter. Spread in an even layer and cook, tossing occasionally, until golden brown and al dente, 5 to 6 minutes. 

Step 

4

Reduce heat to low, return pea mixture to pan, and toss with tortellini. Stir in basil, mint, tarragon, lemon juice, and a pinch of salt. 

Step 

5

Spoon tortellini onto a platter. Top with lemon zest, prosciutto, burrata, and red pepper.
This content is imported from poll. You may be able to find the same content in another format, or you may be able to find more information, at their web site.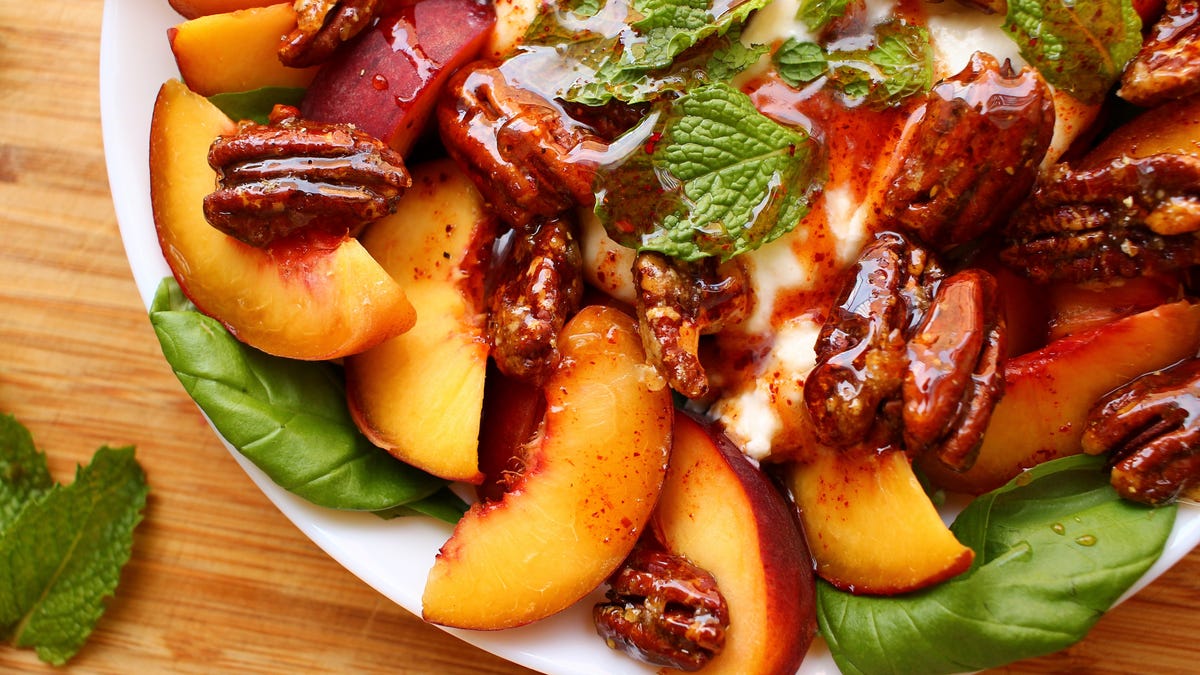 Food Editor
Brooke Caison is the food editor at Delish, where she develops and styles original recipes, writes the weekly membership newsletter, and appears as occasional on-camera talent for Delish's YouTube channel. She's obsessed with the idea of bringing restaurant methods to the home cook with foolproof techniques and organized cooking (like how to safely shuck a clam or tackle a complex baking project). A graduate of ICE, she was previously a line cook, hospitality manager for the opening season of Little Island, and culinary assistant to Top Chef judge and food expert Gail Simmons. Her work has also appeared on Martha Stewart. There's no food she won't try, but cranberry whipped feta dip has her heart.
News Source: https://www.delish.com/cooking/recipe-ideas/a42922721/burrata-pea-and-prosciutto-tortellini-recipe/